Trump asks how Cuomo can survive after saying America 'was never that great'
Trump asks how Cuomo can survive after saying America 'was never that great'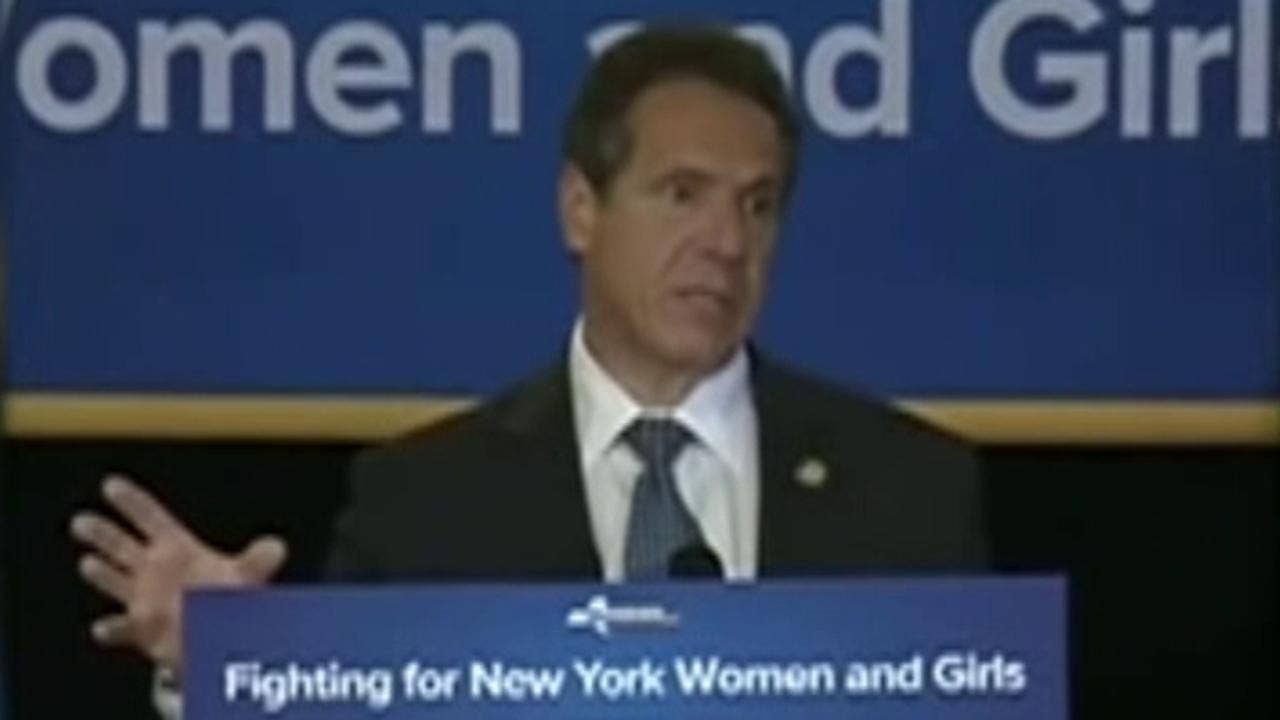 President Trump renewed his attacks Friday on New York Gov. Andrew Cuomo for saying America "was never that great," accusing him of pushing people out of the state with high taxes — and asking how he can survive such a gaffe.
"How does a politician, Cuomo, known for pushing people and businesses out of his state, not to mention having the highest taxes in the U.S., survive making the statement, WE'RE NOT GOING TO MAKE AMERICA GREAT AGAIN, IT WAS NEVER THAT GREAT?" he tweeted. "Which section of the sentence is worse?"
Cuomo shocked supporters on Wednesday when he made the remarks as he criticized Trump's "Make America Great Again" slogan.
"We have not reached greatness, we will reach greatness when every American is fully engaged, we will reach greatness when discrimination and stereotyping against women, 51 percent of our population, is gone," he went on to add.
His office later said Cuomo "believes America is great and that her full greatness will be fully realized when every man, woman and child has full equality."
"America has not yet reached its maximum potential," his office added.
But the statement did not stop Cuomo from being mocked and criticized from both sides of the political spectrum for his comments. Actress and activist Cynthia Nixon, who is challenging Cuomo in the Democratic gubernatorial primary, suggested it was part of his efforts to fend off her left-wing challenge.
"I think this is just another example of Andrew Cuomo trying to figure out what a progressive sounds like and missing by a mile," the activist and "Sex and the City" actress told NY1 on Wednesday.
Left-wing Mayor Bill de Blasio said that he assumed the governor misspoke and that America's greatness "has never been in question to me." His own statement came with a hefty dose of qualifiers.
"America is great. America has been great. We have a lot of work to do in America to make it a more fair and just country," de Blasio said, according to The New York Daily News.
"But that doesn't take away from our greatness. The concept of America is great and a lot of our history is, and there's some parts of our history that, we have to be blunt about, how far we were from our ideals," he continued. "But the greatness has never been in question to me."
Cuomo was also hit from the right, with longshot Republican challenger Marc Molinaro saying he was "ashamed and shocked" at the remarks and calling on Cuomo to apologize.
"Even with our imperfections, this nation, its promise, its purpose, its principles and its people have always been great and that determined march toward making things better, that's what has always made America great," he said on "Fox & Friends" Thursday. "I'm ashamed to think my governor doesn't know that."
Trump, who has feuded for years with Cuomo, also swung at the rumored 2020 presidential candidate earlier this week and accused him of having a "total meltdown."
"Can you believe this is the Governor of the Highest Taxed State in the U.S., Andrew Cuomo, having a total meltdown!" he tweeted.
Cuomo responded by tweeting to Trump: "What you say would be 'great again' would not be great at all…We will not go back to discrimination, segregation, sexism, isolationism, racism or the KKK."
Published at Fri, 17 Aug 2018 12:42:00 +0000