Dems seize on Cohen plea deal to push off Kavanaugh hearings, call Trump 'unindicted co-conspirator'
Dems seize on Cohen plea deal to push off Kavanaugh hearings, call Trump 'unindicted co-conspirator'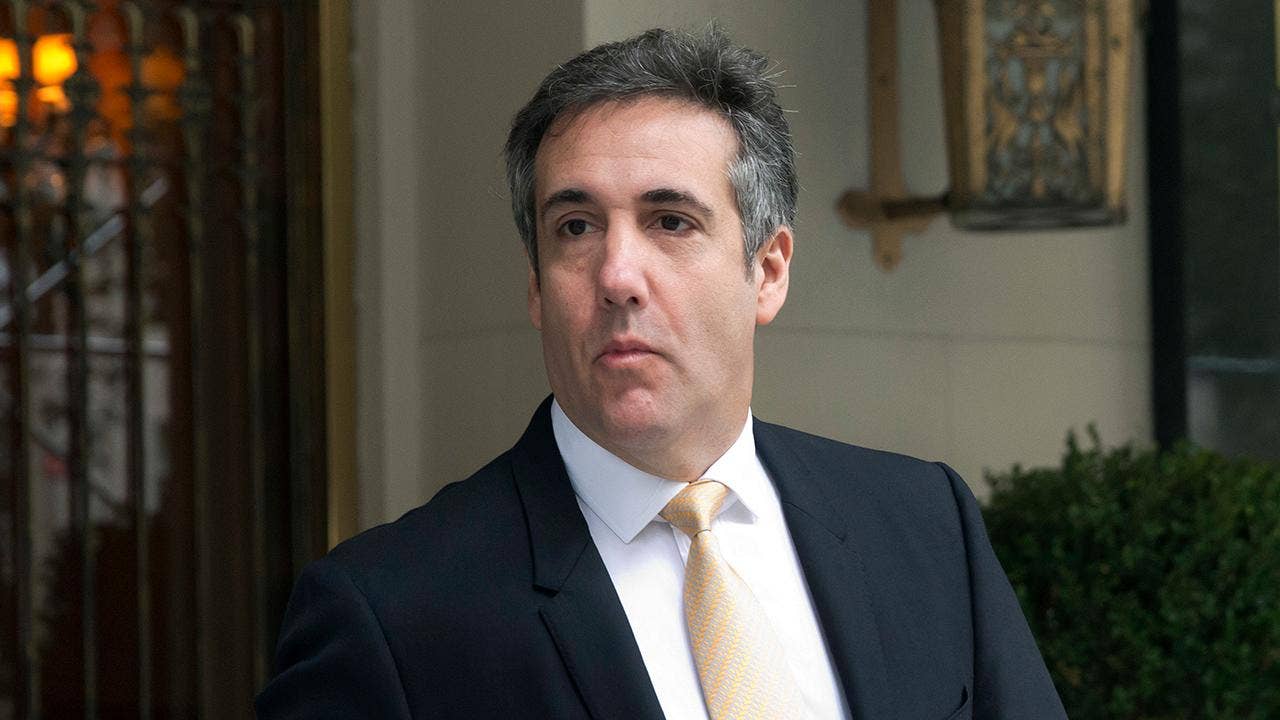 A day after ex-Trump lawyer Michael Cohen pleaded guilty to violating campaign finance laws, Democrats eager to prevent a conservative majority on the Supreme Court are seizing on the plea to demand nominee Brett Kavanaugh's confirmation hearing be postponed — as they label Trump an "unindicted co-conspirator."
Cohen admitted Tuesday to arranging hush money payments to adult film star Stormy Daniels and former Playboy model Karen McDougal "at the direction" of President Trump before the 2016 election.
Cohen did not specifically name the two women or even Trump in the plea, recounting instead that he worked with an "unnamed candidate." But the amounts and the dates all lined up with the payments made to Daniels and McDougal.
MICHAEL COHEN ADMITS VIOLATING CAMPAIGN FINANCE LAWS IN PLEA DEAL, AGREES TO 3-5 YEAR SENTENCE
Cohen's plea came on the same day that former Trump campaign manager Paul Manafort was found guilty on eight counts of bank and tax fraud, making him the first Trump campaign associate to be found guilty by a jury as part of Special Counsel Robert Mueller's Russia probe.
With the confirmation hearing for Kavanaugh two weeks away, Senate Democrats, who had already called for the hearing to be delayed until after the November midterms, used the plea to renew those calls with increasingly heated language.
PAUL MANAFORT CONVICTED BY JURY ON BANK AND TAX FRAUD CHARGES; MISTRIAL DECLARED ON 10 COUNTS

Senate Minority Leader Chuck Schumer, D-N.Y., said that in a meeting with Kavanaugh on Tuesday, the nominee would not say that a president must comply with a subpoena. Schumer said that that statement, along with the Cohen plea, is a "game changer."
"The sequence of those two events –Judge Kavanaugh's refusal to say that a president must comply with a duly issued subpoena, and Michael Cohen's implication of the president in a federal crime – makes the danger of Brett Kavanaugh's nomination to the Supreme Court abundantly clear. It's a game changer. Should be," he said on the Senate floor.
Sen. Mazie Hirono, D-Hawaii, on Wednesday said that she had postponed her meeting with Kavanaugh since she would not extend that courtesy to the president, whom she said was an "unindicted co-conspirator."
"As I and others have said many times in the last two years, these are not normal times. And these are certainly not the times for this Committee to consider a Supreme Court nominee of this President, especially a nominee who thinks the President should be immune from investigation. We cannot abandon common sense in this dangerous time for our democracy. So, as I have said before, we should delay this hearing for Judge Kavanaugh. For so many reasons it is not the time," she said in a Senate Judiciary Committee hearing.
"I will also be cancelling my meeting with Judge Kavanaugh. This President, who is an unindicted co-conspirator in a criminal matter, does not deserve the courtesy of a meeting with his nominee—purposely selected to protect, as we say in Hawaii, his own okole," she said.
"I'm not going to delay Judge Kavanaugh's confirmation hearing," Senate Judiciary Committee Chairman Chuck Grassley, R-Iowa, said Wednesday. "There's no precedent or logical reason for the Senate to decline to proceed on Judge Kavanaugh's nomination in these circumstances. It's just another attempt to block Judge Kavanaugh's confirmation by any means necessary."
Not all Democrats were on board with calls for a delayed hearing. "That's not right… we have a job to do," Sen. Joe Manchin, D-W.Va., said.
Sen. Cory Booker, D-N.J., told reporters that Trump was "directly implicated in criminal activity" and said that the Senate should not confirm any Supreme Court justice until the Judiciary Committee deals with what he said was Trump "being credibly implicated or alleged to be a criminal co-conspirator."
He also said that "it will predicate a crisis in our country" if Trump moved to pardon anyone or intervene in the process.
Sen. Dianne Feinstein, D-Calif., also called for a delay, saying that "the possibility of criminal wrongdoing by the president, combined with existing doubts that Brett Kavanaugh believes a president can even be investigated, demand further review of this situation."
The White House, however, dismissed the move by Democrats as desperate, and said that the hearing would go ahead as planned.
"Democrats pledged to block Judge Kavanaugh with everything they had. Frankly, this latest attempt looks increasingly desperate," White House Deputy Press Secretary Raj Shah said. "The Committee has a hearing scheduled for September 4th, and Judge Kavanaugh will be there."
At the daily press briefing, Press Secretary Sarah Sanders called the calls "desperate and pathetic."
Sen. Marco Rubio, R-Fla., backed the White House and said that the call to postpone "doesnt make sense."
"I don't know what Judge Kavanaugh has to do with any of this," he told reporters.
Fox News' Jenny Buchholz, Jason Donner, Chad Pergram and The Associated Press contributed to this report.
Published at Wed, 22 Aug 2018 22:30:00 +0000