Trump rips ESPN and CBS for not broadcasting national anthem: 'What the hell is the NFL doing?'
Trump rips ESPN and CBS for not broadcasting national anthem: 'What the hell is the NFL doing?'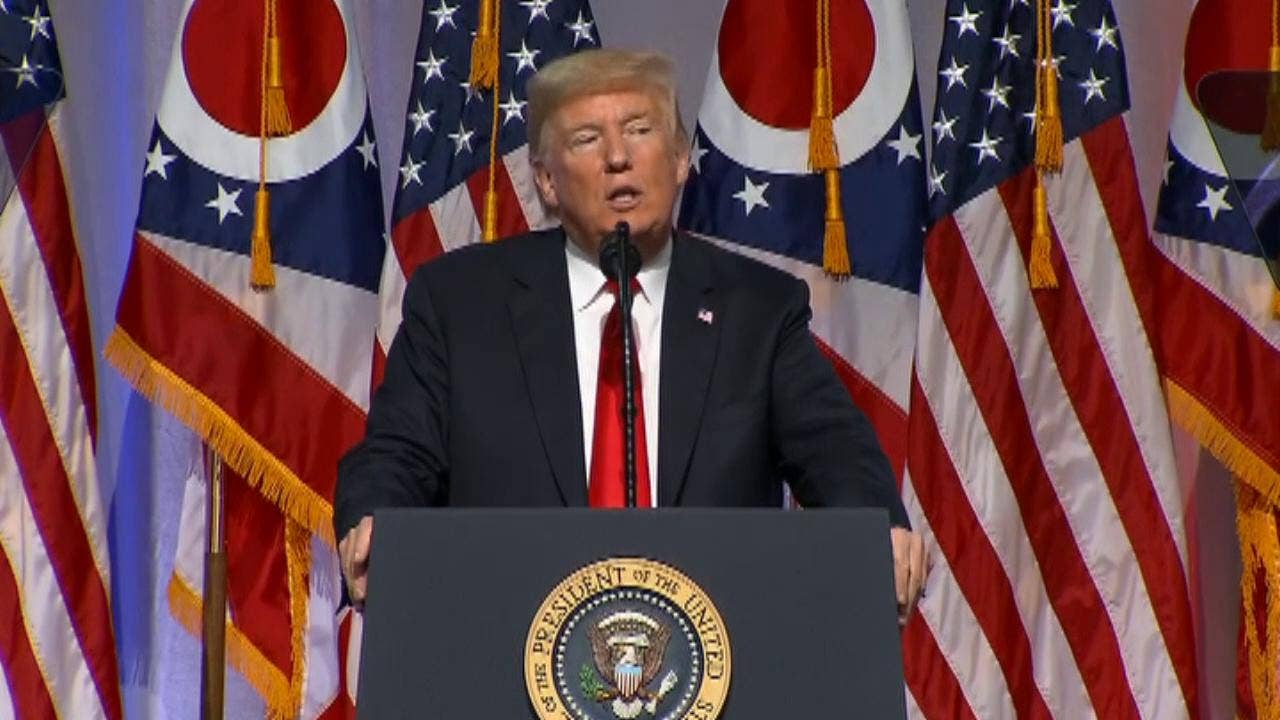 President Trump on Friday ripped ESPN and CBS for saying they won't air the national anthem before professional football games, asking, "What the hell is the NFL doing?"
The president, speaking during a fundraiser in Columbus for the Ohio Republican Party, said CBS and ESPN won't air the anthem because they are trying to avoid "controversy."
"What are they doing?" Trump asked. "Do they not have a clue? It's hurt them badly too. It's continuing. They think they're doing something smart by not broadcasting the national anthem."
He added, "That's CBS and ESPN folks. Enjoy your television."
ESPN president Jimmy Pitaro said earlier this year they "generally" don't broadcast the anthem.
"I don't think there's going to be any change this year," Pitaro said this month. "Our plan going into this year is to not broadcast the anthem."
CBS also says it doesn't plan to air the anthem, explaining their decision is "consistent with [their] past practices."
ESPN PRESIDENT SAYS NETWORK WILL NOT AIR NATIONAL ANTHEM ON 'MONDAY NIGHT FOOTBALL'
The remarks come just months after the NFL adopted a policy that would fine teams and league personnel who do not "stand and show respect for the flag and the Anthem." However, the policy was put on hold as the NFL and NFL Players' Association negotiated the strategy.
The kneeling protests, started by former San Francisco 49ers quarterback Colin Kaepernick during the 2016-17 NFL season in opposition to police brutality, triggered fierce debates and criticism from Trump.
The issue of kneeling during the anthem continues to make a wave in politics, as Beto O'Rourke, the Democrat challenging GOP Sen. Ted Cruz, R-T.X., in the midterm elections, went viral for saying there's "nothing more American" than kneeling during the national anthem.
Liberals celebrated O'Rourke's comment, with basketball star LeBron James saluting the Democrat for his "candid thoughtful words!"
CRUZ CHALLENGER SLAMMED FOR SAYING 'NOTHING MORE AMERICAN' THAN KNEELING DURING ANTHEM
Republicans, though, decried the remark.
"Comments like his are a slap in the face to every man and woman who has ever served our nation and put their lives on the line to defend American values," Republican Party of Texas Chairman James Dickey said Thursday.
Fox News' Ryan Gaydos and Kathleen Joyce contributed to this report.
Published at Fri, 24 Aug 2018 23:54:00 +0000