Trump's Supreme Court pick needs Senate approval: A look at the confirmation process
Trump's Supreme Court pick needs Senate approval: A look at the confirmation process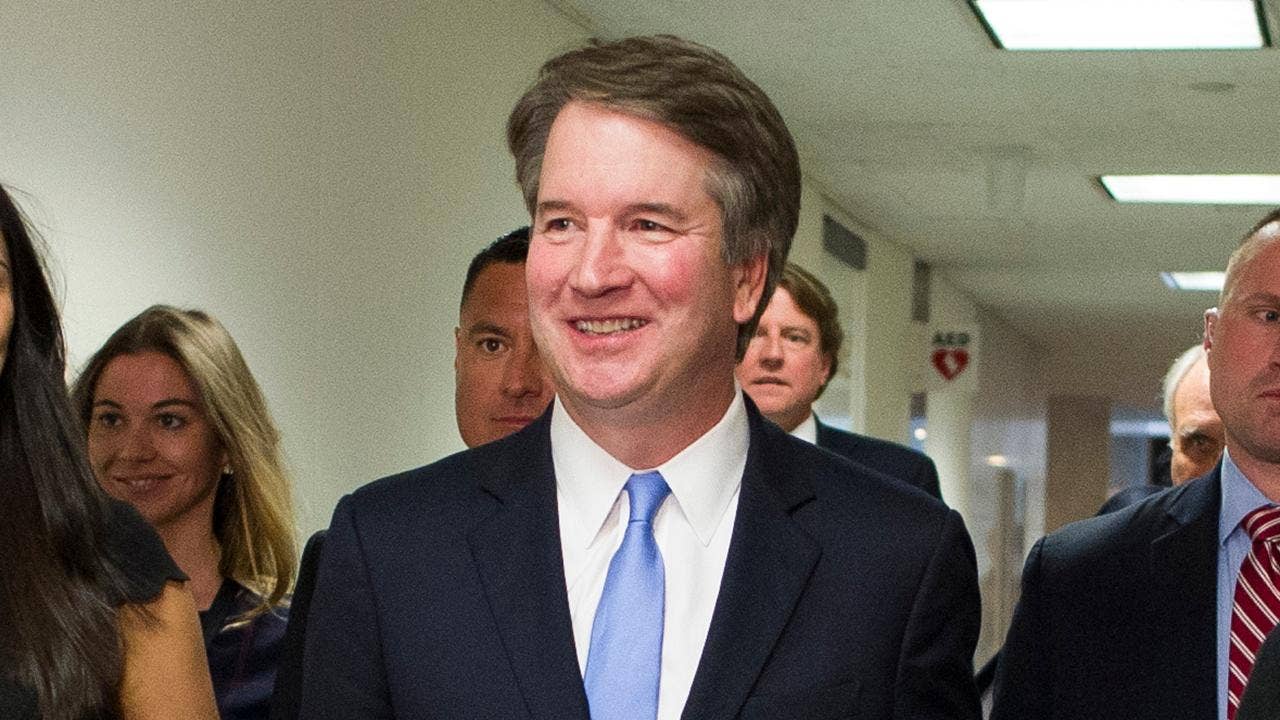 The confirmation hearing for Brett Kavanaugh, President Trump's pick for the Supreme Court, is expected to begin in early September.
Trump officially tapped Kavanaugh on July 9 – less than two weeks after Anthony Kennedy announced his retirement from the bench.
From how the Senate Judiciary Committee's hearing works to the actual vote, read on for a look at the confirmation process Kavanaugh will go through.
The hearing
Once the president announces his nomination to the Court, the Senate Judiciary Committee will hold a hearing for the nominee to provide testimony and answer questions. This hearing can take multiple days.
WHO ARE THE SUPREME COURT JUSTICES?
After the hearing, the committee will vote, and it typically recommends the nominee to the full Senate for a vote. The committee can give a favorable or unfavorable recommendation – or none at all.
In 1991, Justice Clarence Thomas was sent to the Senate for a vote without a recommendation – favorable or not – from the Judiciary Committee. Robert Bork was sent to the full floor with an unfavorable recommendation in 1987; the full Senate ultimately did not confirm him.
The vote
In order for a Supreme Court nominee to be confirmed, he or she needs to receive a simple majority of 51 votes.
But this wasn't always the case.
Senate Republicans deployed the so-called "nuclear option" in 2017 in order to ensure Neil Gorsuch was confirmed to the nation's highest court. This changed the rules, allowing a nominee to be confirmed with only 51 votes instead of 60.
Currently, there are 51 Republican senators and 49 Democrats (which includes two independents who caucus with Senate Democrats).
KAVANAUGH'S STAUNCH GUN-RIGHTS DEFENSE AMONG HUNDREDS OF DECISIONS IN SPOTLIGHT
Sens. Susan Collins of Maine and Lisa Murkowski of Alaska are two Republican lawmakers the White House might not be able to count as reliable votes as both have typically supported abortion rights. Collins has already said she will not vote to confirm a candidate who would show "hostility" toward Roe v. Wade, the 1973 landmark decision that legalized abortion.
Both women are being targeted by a liberal group over their vote. However, in 2017 they both voted to confirm Gorsuch, who was confirmed 54-45.
SUPREME COURT PICK BRETT KAVANAUGH SUPPORTED BY MOST GOP GOVERNORS IN LETTER: A LOOK AT WHO DIDN'T SIGN IT
Democrats Joe Donnelly of Indiana, Heidi Heitkamp of North Dakota and Joe Manchin of West Virginia sided with Republicans in confirming Gorsuch. All three face tough re-election campaigns this year.
If there is a tie on the Senate floor, Vice President Mike Pence would break it, and he would be more than likely vote for Trump's nominee.
Fox News' Judson Berger and John Roberts have contributed to this report.
Published at Thu, 30 Aug 2018 13:05:00 +0000